Cell Viability Screening and Analysis
---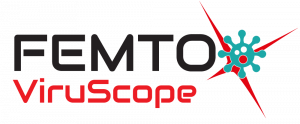 BREAKTHROUGH IN THE RESEARCH OF VIRAL INFECTIONS
We offer an advanced two-photon (2P) cell viability assay to test your antiviral or antibody hit compounds. We will equip your research laboratory with a scalable solution and high-quality services, to ensure their success in research.
---
TWO-PHOTON CELL VIABILITY ASSAY SYSTEM

FEMTOViruScope
The FEMTOViruScope 2P microscope combines high-tech science and engineering with a new Cell Viability Assay for viral (or other types of) infections. Its unique properties offer researchers the possibility to obtain immediate and detailed results from a cellular level. It is able to scan microplates filled with your choice of in vitro cell culture, or even organoids, fitting your needs and research scope perfectly. You can infect the different samples in the unique wells with viruses and add various drug candidates or active molecules in order to find the best protecting combination against the infection. The ViruScope scans each well rapidly, one after another, measuring a series of plates, then quantifies their status on an infection scale, from non-damaged to highly damaged, in an automated way.
Technical details of the FEMTOViruScope
Working distance: 2 – 8 mm
Objective: water immersion 16x objective
Field of view: 900 x 900 μm, Tile imaging is available.
Resolution: < 500 nm
Scanning rate: 16 s/FOV = 25 s/well = 2500 s/plate (40 min/plate)
Laser: pulse laser 690 – 1040 nm with autofocus and auto intensity
Detector: multichannel tunable detection for multicolor labeling
---

FEMTODye-MZ137
FemtoDye-MZ137 is a novel, 2P active, small-molecule dye which helps you in distinguishing between healthy and infected cells. This unique dye can sense cell response upon infection. Healthy cells remain faint (light blue), while the infected cells (yellow) become bright. The dead cells are detached from the bottom surface of the well, exhibiting black areas. For the best results, FEMTODye-MZ137 is recommended to use with FEMTOViruScope.
Spectrophysical details of FemtoDye-MZ137
Excitation wavelengths: one-photon excitation at 506 nm;
two-photon excitation at 700 or 750 nm
Emitted wavelength: 535 nm
---

FEMTOPlate®
The FemtoPlate® is a special plate that ensures your safety against accidental viral infection. It seals the upper surface of the plate securely by the cover lid with silicon glue. It allows you to work in a BSL-1 or 2 laboratory with any virus sample.
---
A COMPLETE SOLUTION