Join us at SfN – Neuroscience 2022 between Nov. 12 – 16. at booth no. 335!
If you are interested in ultrafast voltage imaging, the first commercialized 3D real-time motion correction, deep imaging, and more, contact us for a live demonstration of our turnkey FEMTO3D Atlas Plug and Play acousto-optic multiphoton microscope at our booth. There are still a few available slots!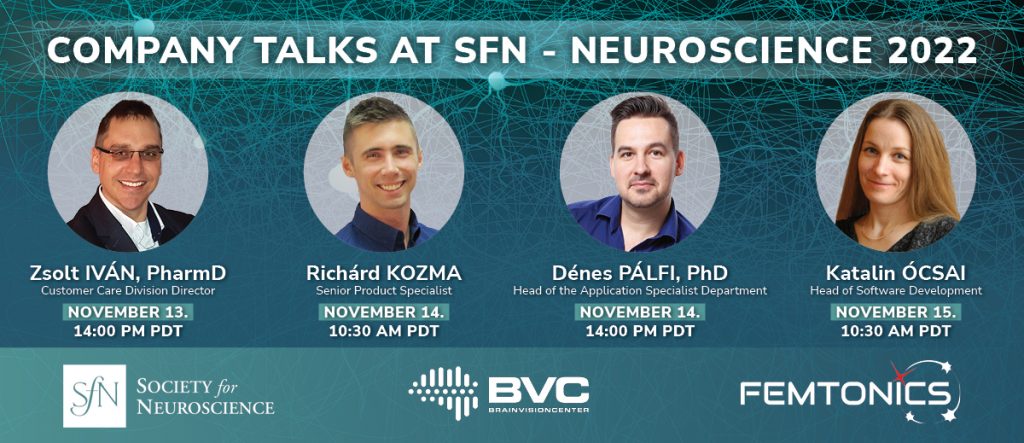 Zsolt Iván, PharmD – Neuroscience, Illuminated: Femtonics, forming the future of neuroscience – Nov. 13., 14:00 PM PDT
Richárd Kozma – A recipe for voltage imaging in 2022: Indicators, Hardware, Software – Nov. 14., 10:30 AM PDT
Dénes Pálfi, PhD – Selected applications of the FEMTO3D Atlas – Nov. 14., 14:00 PM PDT
Katalin Ócsai – Real-time (online) 3D movement correction for in vivo experiments using acousto-optic two-photon microscopy: Introducing the FEMTONICS FocusPinner – Nov. 15., 10:30 AM PDT

Visit booth no. 335 to chat about our state-of-the-art multiphoton solutions & check out the FEMTO3D Atlas Plug & Play in action!


The world-class multiphoton devices of Femtonics can answer all your experimental needs. Seize the opportunity and discuss or try them with our microscopy experts: contact our specialists below.

WHAT'S NEW AT FEMTONICS?
Every year, we aim to develop and manufacture two-photon laser scanning microscopes that meet the most current needs of the scientific community.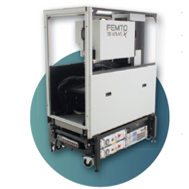 A TRULY TURNKEY SOLUTION: FEMTO3D ATLAS PLUG AND PLAY
This turnkey multiphoton device is ready to operate within an hour of delivery and can be moved easily within and between laboratories. Equipped with the latest 3D acousto-optic (AO) technology for ultra-fast 3D imaging and 3D photostimulation in vivo, it provides a compact and all-in-one solution in multiphoton microscopy.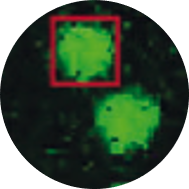 REAL-TIME 3D MOTION CORRECTION: THE FEMTONICS FOCUSPINNER
The first truly 3D, blazing-fast real-time motion correction solution, available for the FEMTO3D Atlas. By combining this feature with the unique scanning modes of the FEMTO3D Atlas, you can acquire neuronal activity data without motion artifacts while the animal is performing tasks in virtual reality.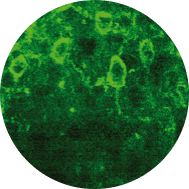 KEEPING UP WITH ACTION POTENTIALS: VOLTAGE IMAGING WITH THE FEMTO3D ATLAS
Voltage sensors, combined with the achievable 100kHz sampling rate of the FEMTO3D Atlas, are capable of detecting ultrafast transients, such as action potentials. The FEMTO3DAtlas, equipped with the AO technology and our real-time motion correction feature, is currently the only scanning device which can keep up with the speed of firing neurons!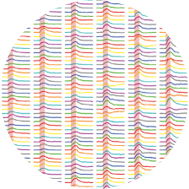 LIGHT ACTIVATION: 3D PHOTOSTIMULATION AND 3D IMAGING WITH THE FEMTO3D ATLAS
Stimulate and image sparsely distributed individual cells or dendritic processes simultaneously in large 3D volumes with high precision! To the FEMTO3D Atlas Dichro microscope, a second laser can be coupled, making it possible for you to perform optogenetic stimulation or uncaging simultaneously with imaging, even in different cell populations. Combined with the Femtonics FocusPinner, stimulation and imaging can be performed with unprecedented precision!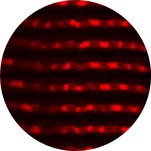 MULTIPLE PARAMETERS: MEASURING BLOOD FLOW VELOCITY AND NEURONAL ACTIVITY SIMULTANEOUSLY IN 3D
The FEMTO3D Atlas Dichro microscope, by utilizing two laser sources, provides a flexible and precise tool for the simultaneous measurement of blood flow velocity and other imaged parameters, such as neuronal activity, in vivo in 3D. The unique scanning modes of the FEMTO3D Atlas enable you to follow the vessels through multiple cortical layers and can provide you with local information about neuronal and cardiovascular status at the same time. The total length of the scanned ribbons can reach up to ~5 mm!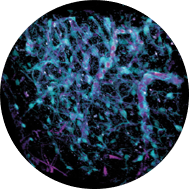 FOR DEEP IMAGING: THREE-PHOTON (3P) MICROSCOPY WITH FRESHLY DEVELOPED BEAM STABILIZATION
This technology allows non-invasive structural and functional imaging by making cells visible in deep tissues with high spatial resolution and superb contrast. FEMTOSmart Galvo equipped with the 3P range microscopy optional module provides superior penetration depth, reduced out-of-focus excitation, and increased signal-to-noise ratio, with uniquely Femtonicsdeveloped 3P beam stabilization. The 3P module provides a tunable excitation wavelength range of 1,200-1,800 nm!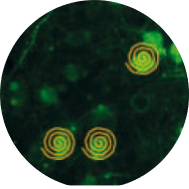 SIMULTANEOUS IMAGING AND PHOTOACTIVATION: THE STRENGTHS OF THE FEMTOSMART DUAL
The modular and affordable FEMTOSmart Dual multiphoton microscopes integrate two independent light paths into one system, thereby offering fast, simultaneous imaging and photoactivation at high spatial and temporal resolution.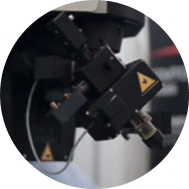 A HIGH LEVEL OF FREEDOM: MOTORIZED TILTING OBJECTIVE FOR FEMTOSMART PLATFORMS
This unit rotates the objective, giving you a high level of freedom to reach your region of interest from different angles. The module also includes a Piezo objective positioner, ensuring fast, smooth, and precise axial movement. Store and reuse optimal angles and positions when experimenting multiple times with the same animal!